By: Norfolk State University
Mekenzy Linder, a Norfolk State University Fine Arts student, is the winner of the 2022 Target's HBCU Design challenge. Mekenzy is currently a Junior Graphic Design major at NSU.
The HBCU Target challenge was to design graphics for Black History Month in 2023. She was encouraged to participate in the competition as a class assignment in her Printmaking Workshop studio course (FIA 261 and 262) taught by Professor Solomon Isekeije. The course encouraged students to explore themes such as Identity, Empowerment, Afrofuturism, Exploitation and Commodification of Black bodies and experiences from a visual art perspective.
Linder's artwork, titled ICON, explored the representation of Black culture in mass media. Her design is a good example of the application of art as a tool for empowerment and Afrofuturism. ICON highlights aspects of African American cultural nuances, exploited for financial gain in mainstream fashion, music and popular culture. Through her design, Mekenzy is reclaiming Black innovations, and empowering African American artists and designers to embrace their culture and contributions to popular culture. ,
"This project was designed to recovery trends and styles pioneered by Black people that are now replicated in mainstream popular culture," Linder said. "This process of recovery gives recognition to the original black trendsetters in popular culture."
As winner of the 2022 Target HBCU challenge, Mekenzy was mentored by industry experts and featured in a Target Black Beyond Measure campaign throughout Black History month in 2023. From Jan. 8, 2023, Target will feature Mekenzy's design on fashion apparels in over 700 target stores and online retail outlets.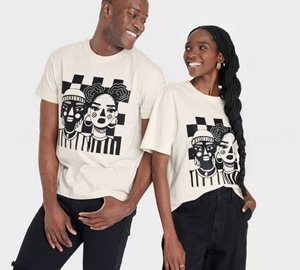 The T-shirt can be purchased at https://www.target.com/p/black-history-month-adult-chess-people-short-sleeve-t-shirt-cream/-/A-86959297?preselect=86721267#lnk=sametab.
Norfolk State University will also receive a donation of $1500 from Target.